** Multi Award Winning Fetish Producer **
---
**This is an ADULT-oriented website. If you are under 18 years of age or easily offended, please EXIT now.

....or go to my "safe for work" website which includes my pinup and cosplay portfolio,
resume, tearsheets, and travel schedule: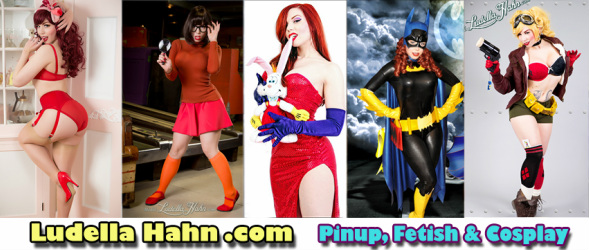 CLICKING ANY LINKS OR PAGES ASSUMES YOU ARE OF LEGAL AGE TO DO SO.
---
Here you will find my latest video clip updates. I am currently updating with 2-3 new video clips every week in a variety of fetishes from superheroines, super villains, vore, pantyhose, nylons, robots/fembots, mind control, vampires, and more.
I also accept custom orders where you get to play the director and create your own customized video. 80% of the videos you'll find on my video page were custom requests, to give you an idea of what I am capable of creating for you. If you don't see something there you like, don't be afraid to ask. It's likely I just haven't received an order in that fetish yet.
You can purchase and download directly from my video page, or you can click the button at the top to peruse and purchase through my clips4sale site.
Make sure you bookmark my page and check back each week for 2-3 new updates!
Here you will find my nude and fetish portfolio as well as limited full photosets. Be sure to check back often as the full sets will be a limited run.

You can also order custom photosets. Click the customs page to email me for more details regarding pricing.
Have a custom video clip or photoset you'd like to have me shoot for you? This is the page to use! Details and an email box available for your convenience. You will also find photos of models I'll be working with that are also available for customs with me.

This is the page you want if you'd like to purchase signed magazines, prints, panties, stockings, and one-of-a-kind items.
This is the interactive section of my website. Here you will be able to take a glimpse into the "behind-the-scenes" parts of my life as a fetish model, with sneak peek photos from shoots and filming, video previews, commentary, and polls (to get your input on things!) You will be able to leave comments on my posts and you will be able to share my posts here with your friends through Facebook or Twitter as well. I'll be posting here a few times a week, and I look forward to interacting with you!