Oh, hello! It's been almost a month since my last post. Oops! I have quite a few announcements, too.

First up: publications.
I have had the privilege of being the model for the first issue of Retro Lovely's new pulp publication "Pulp Queens." One of the reasons this is so exciting to me is that I was asked to write the story to accompany the photoset within. For those of you who don't know, my "minor" in college was creative writing. (They did not offer it as a major, so I majored in Classical Humanities and took creative writing as my minor.) I started modeling while still in school, made it my full-time career after graduating and have been doing that since, so when it comes to writing, I'm out of practice. Though I had never written a complete short story before, I agreed to do it when the publisher asked. Why? Because of the challenge. I thought it would be perfect motivation to get me back on the saddle of the written word, and I function best under pressure (hence why I overfill my schedule on a daily basis, though it eventually pays its toll and I'll end up sick). Growing up, my mom always told me I had to stop burning the candle at both ends, but it's the only way I know how to function. So, anyway, that's why I accepted, and that's why I'm so excited to announce my involvement in the first issue of Pulp Queens: Murder by Sock Garters and Sausages.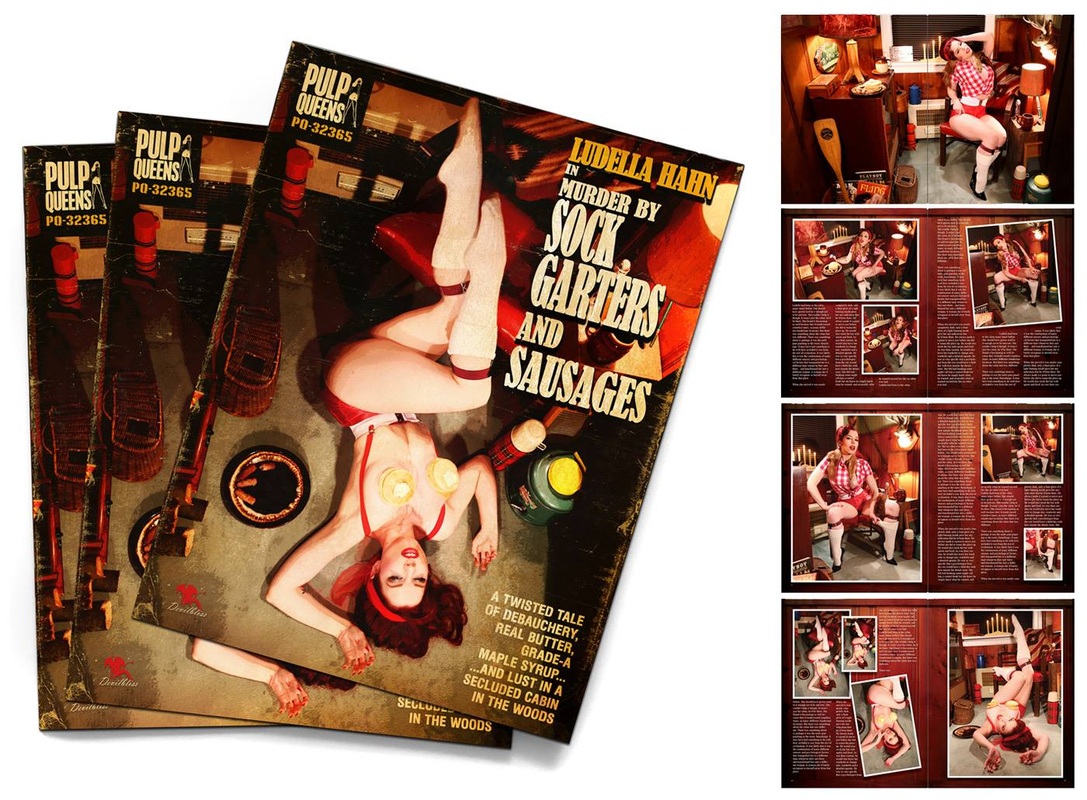 This issue has already gone to print and will be available soon. You can pre-order a signed copy in
MY SHOP
. There are 32 pages of images and a pulp fiction short by yours truly. :) This currently hold the record as the most pages you can find of me in a magazine, withe the second highest being 24 pages in my cover issue of Retro Lovely's Taboo Edition issue 6 (also available in my shop).
Another magazine I've had the opportunity to work with is available for shipment as well: the latest issue of Tease and Cake Magazine with a 4 page feature/interview on my fetish productions. Tease and Cake is a retro erotica magazine based in the UK. I shot a cover feature for them back in 2013 & they also used me for the cover of their 2014 calendar. My cover issue sold out, so snag up this issue while you can! You can purchase it at
Teaseandcake.co.uk/purchase.html
.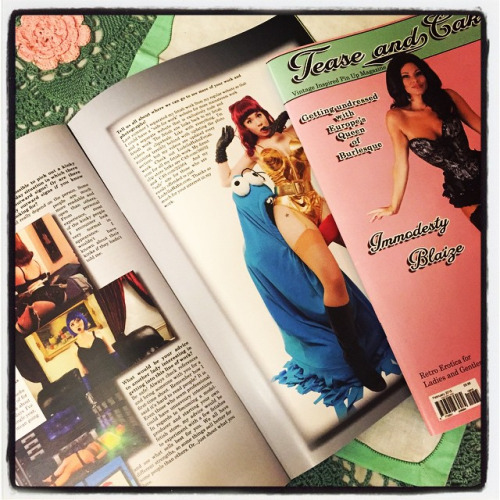 And there are still more projects in the works of course, though I'm wondering how I have time for it all, and time is certainly flying by. I can't believe it's almost April already, which means it's almost my birthday. I haven't even thought of what I want to do for my birthday this year. Last year I did a murder mystery weekend in Vermont. I wanted to do a ski trip in NH this month as an early celebration, but our renovations have taken over the month. I'm quite excited about that though, as some of you might know, I had to move my whole wardrobe room into the basement at the end of December in order for us to have our 2nd floor redone, and it's been very stressful for me to search through piles of boxes anytime I need a costume or certain prop for my shoots. We originally thought we'd have it finished by the end of Feb, but the blizzard and big snowfall this winter pushed many things behind. BUT...now we have dates scheduled! Insulation is being done Friday. The beams for our newly cathedraled ceiling will be put up this weekend, windows after that. and then the following weekend the drywall will start getting installed, which will take a week. Then we just need to worry about painting and redoing the floors. :) So...pending on when floors can get scheduled, we should finally have our 2nd floor back by the end of April. So excited!
Here I am blabbering on about home improvements...
In other news, I will be attending San Diego Comic Con this year with my friend Minnie d'Moocha, and I have been hard at work on a bunch of new cosplays for that, which I can't wait to share some photos of. :)
I will also be a Featured Cosplay Guest at Hartford Comic Con in September, so for you Northeasterners who cannot make it to Florida to meet me as a Guest of Honor at FetishCon, be sure to get tix to HCC so you can meet me at my table there! :)
Keep an eye on my schedule and blog for more announcements soon!
Thank you all so much!
xoxo,
Ludella
P.S. (Updated)
I don't want to post about my studio ranking on Clips4Sale much as I don't want to come off braggy, but
I'm too excited right now...as today I hit my highest rank on the front page: #26! :) Check out my store at Clips4Sale.com/36032 for lots of fetish fun.