Oh hi again! Just me being horrible about updating, but it's all for good reasons of course. I've just been incredibly busy with shooting for my clip stores. This month marks my first year since becoming a full-time "Model-Producer" for clips4sale, and I'm still working out how to balance everything. I'm kind of a workaholic with intense focus...which means not being super about multi-tasking as I get stuck on completing the task at hand, which has been mostly shooting/editing custom videos and updating my clips4sale stores every week. I need to create a time in my schedule specifically for social media updates, so that I can be better at them...and I also need to start taking more behind-the-scenes photos. I tried to take a bunch while in Vegas for the AE Expo last month, but I neglected to get all the shots I should have because I was so wrapped up in the event.
Before we jump into those though, I have a big announcement...I will be appearing as a "Guest of Honor" at Fetish Con 2015! What does this mean? It means you will be able to come meet me at my table on the floor all weekend for signed magazine, photos, and more. I will be in good company, too. The other Guests of Honor include: Alexandra Snow, Anastasia Pierce, Star Nine, Addie Juniper, and Stacy Burke. Come visit us! If you've never been to Fetish Con, it's a fun experience! And because it's not until August, you have plenty of time to plan a trip. Details about the event can be found at
FetishCon.com
.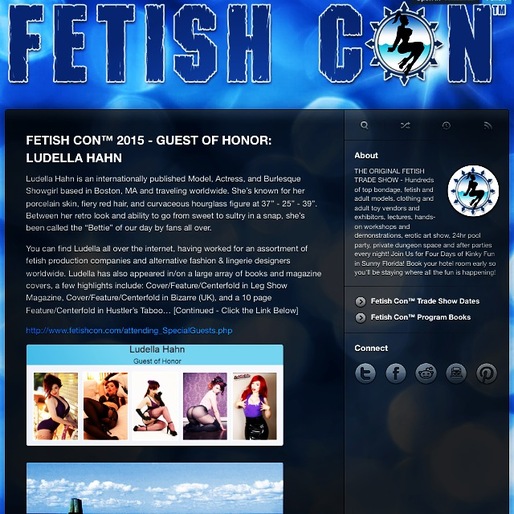 And...here's a little photo gallery from my trip to Vegas for the AE Expo. You can click through for the captions on each photo.
I've been working on some special projects for magazines & other print media in addition to all my video work, too. So keep an eye out for future updates & fun. :)
And if you aren't following me on
Twitter
yet, please do! It's the easiest place for me to post updates, so that's where I've been most active recently. Warning though...it's NSFW. ;)
I've redone my "
videos
" page here to just be a break-down of my most popular categories, but you can also see the three most recent updates in my store at the bottom of the page, or go to my main store to scroll through and search other fetish categories. Please go take a peek. :)
Thanks so much for reading!
xoxo,
Ludella