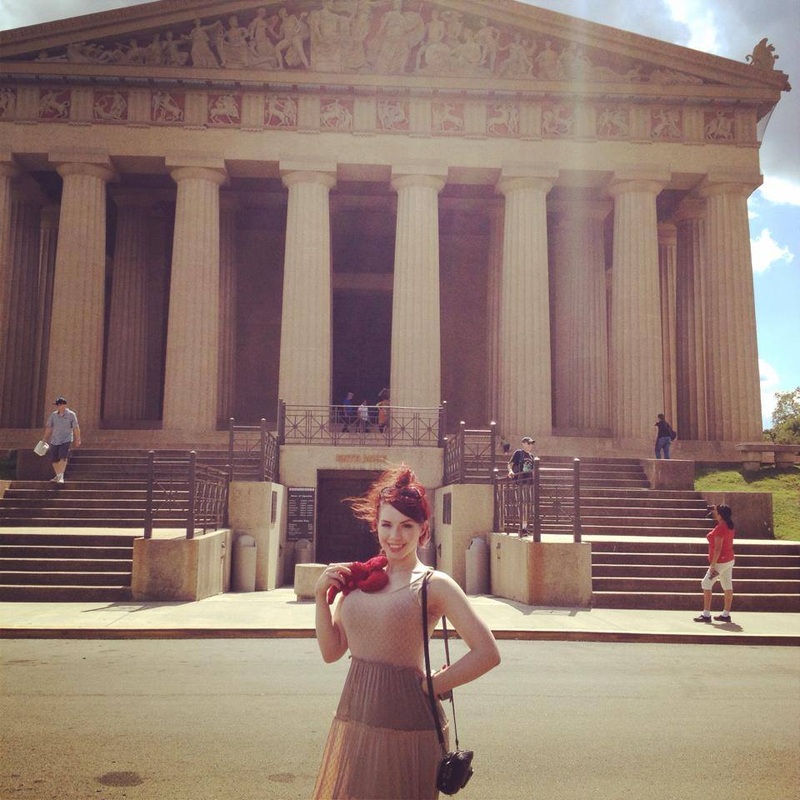 Hello! Just returned last night from a week of getting muddy and messy at Camp MPV for
QuicksandVisuals.com
. On our way to the shoot location, we stopped by the Nashville Parthenon, which was an item on my bucket list! I was excited to stop in, as I'm sure you can tell by my smile in this candid with my travel lobster "Lobby".
Shooting was super busy and a lot of fun with lovely models Annabelle Genovisi and Sarah Michelle and the MPV team in Tennessee. We finished the week off by dancing naked around a bonfire. No photos of that yet, but h
ere's a little phone shot that Annabelle took while I was shooting a scene.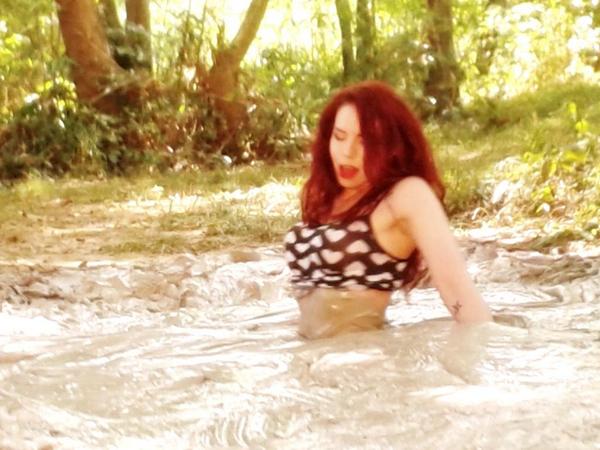 As some of you may know, a tornado went through my yard this past Monday while I was at the airport about to fly to TN. I had left my house just 30 min before it hit, which is a little crazy. I didn't know about the damage until I turned my phone back on after landing. Luckily my house was mostly fine. Just some minor damage with the roof and windows, but my yard on the other hand was destroyed. I was able to be distracted all week while shooting, but now that I am home, I have been feeling quite down about the whole ordeal. A clean-up crew was here today and they cleared out most of the debris, but the yard that I fell in love with (a major reason I wanted to buy this house in particular) no longer exists. Being a girl from Maine, nature has always been very important to me, so the trees and yard meant a lot. This month marks the anniversary of when we first looked at this house, and when I first fell in love with it...just one year ago. I'm very happy that I still have a house, but sad about all that is gone. I know that most of you will likely not read this or likely not care, but I just wanted to put this out there. Never take for granted what you have; enjoy every minute of it.
The Boston Herald came by and took photos for tomorrow's paper, so they might have shots of the damage in tomorrow's issue.
That being said, I'm allowing myself today to grieve and hoping I'll be in good spirits again by tomorrow as I have a lot of work to get done before I fly to Tampa for Fetish Con on Wednesday morning.
I will be shooting some custom videos at the con, and will be able to resume my normal custom video shooting schedule when I return home on the 11th. Thank you to everyone who has contacted me with your commissions. I look forward to shooting them when I return. :)
And thank you all for voting on the print poll! I ended up getting quite a few printed, so I will get those posted on my store when they come in from the printer! He shipped them yesterday...so I should have them soon! I got a few cosplay shots printed in particular to sell at my table at the Rhode Island Comic Con this November. I hope to see some of you New Englanders there for that. I'll be dressed up all weekend and signing prints and magazines. I'm excited about that as it will be my first Comic Con. :)
I have a feature in the new issue of Tease and Cake Magazine. Here's a preview from the photoset. You can order a copy for yourself at
http://www.teaseandcake.co.uk/Purchase.aspx
I'll be posting some clip previews this coming week! I shot 6 custom clips the week before I left for TN and had them all edited and delivered. Some have just gone up on my stores, and some will be going up soon. Check out my
Clips4Sale Store
to see what's new! And if you want to order your own customized clip, be sure to fill out the form on my
Customs Page
. You can see all the models I'll be working with there as well, so ifyou have a 2 or 3 girl custom in mind, be sure to take a peek at my schedule. I'll have access to lots of models at FetishCon this week.
Stay tuned for sneak peeks and updates from FetishCon! I'll be performing at the official afterparty at The Castle on Friday night. If you're in the area, stop by! I'm debuting a brand new act....and it's going to be hot. ;)

Thanks for reading. I wish I had time for a spa day before I leave for Tampa...but I just won't have time. Something to look forward to when I return, I hope!

Curves and Kisses,
Ludella